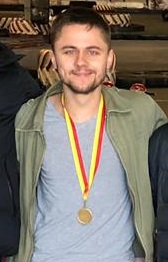 Hi! My name is Bartosz, I am a lecturer in mathematics at KTH Royal Institute of Technology.
When I don't teach integration by parts and Laplace transforms, I often do research in operator and function theory. The medal I wear in the picture to the right is for my outstanding performance in a go-kart race.
My CV can be found here.